General
- Sibeth, Achim, 1991, "The Batak: Peoples of the Island of Sumatra", Thames and Hudson, London.
Textiles
- Gittinger, M., 1976, "The Ship Textiles of South Sumatera: Function and design systems". Bidragen tot de Taal, Land-en Volkenkunde 132: 208.
- Indonesia Photogalleries and Articles; "The Vera Tobing Collection (of Batak Textiles)". Available at www.tribaltextiles.info
- Lenor Larsen, J., 1976, "The Dyers Art: ikat, batik, plangi", Van Nostrand Reinhold, New York.
- Niessen, Sandra A., 1994, "Batak Cloth and Clothing: A Dynamic Indonesian Tradition", Oxford University Press, Oxford.
- Niessen, Sandra A., 2009, "Legacy in Cloth: Batak Textiles of Indonesia", Koninklyk Instituut Voor Taal Land, Leiden, 568 pages.
- Richardson, D. & S., 2017, Asian Textile Studies. Available at www.asiantextilestudies.com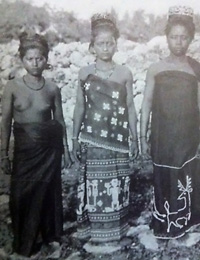 Three women from East Sumba dressed for a funeral feast at Watumbaka, to the east of Waingapu, in 1932. Centre: a noble dressed in a ceremonial lau pahikung hiamba; Left: a bare-breasted slave dressed in a plain mud-dyed lau pakapihak; Right: a commoner dressed in a beaded lau hada(Koninklijk Instituut voor de Tropen)
- The Pusaka Collection, "Online Museum of Indonesian Ikat Textiles". Available at www.ikat.us
- Thomas Murray Arts, Special Exhibitions, "Ties That Bind". Available at www.tmurrayarts.com
<